Talcum Baby Powder Ovarian Cancer and Mesothelioma Lawsuit
Over 2,000 cases have been filed against Johnson & Johnson alleging that their talcum products cause ovarian cancer.
If you or a loved one were diagnosed with ovarian cancer or mesothelioma after use of talc products such as Baby Powder or Shower to Shower, you may be entitled to compensation.
Talcum powder is a commonly used bathroom product, sold by companies like Johnson & Johnson as Baby Powder or Shower to Shower. Recently, jury trials have awarded over $195 million dollars in damages, finding that Johnson & Johnson failed to warn consumers about the risk for ovarian cancer. Ovarian cancer can be uniquely deadly in its later stages if not detected early.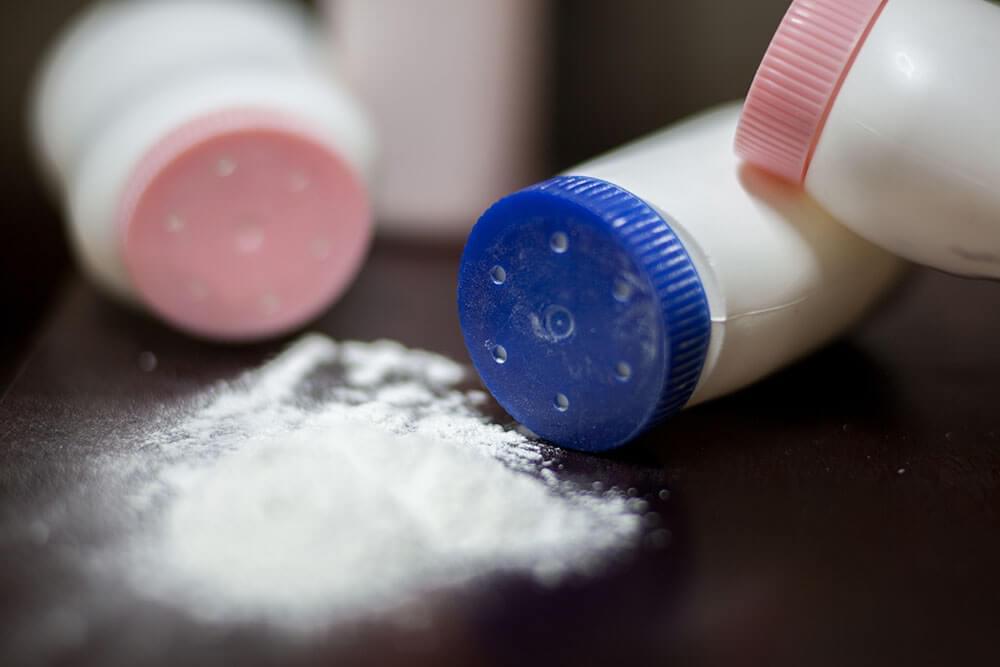 Juries award multi-million dollar damages in ovarian cancer lawsuits
Over 2,000 cases have been filed against Johnson & Johnson (J&J) alleging that their talc products cause ovarian cancer. J&J insists that their products are safe, but have lost three straight trials and have been ordered to pay over $195 million in damages. Deborah Giannecchini, 62, was awarded more than $70 million after using baby powder for feminine hygiene for several years. She developed ovarian cancer and doctors gave her only a 20% chance to live in the next two years. There were similar verdicts in cases involving a South Dakota woman with ovarian cancer and the family of an Alabama woman who died from the disease; J&J were ordered to pay $55 million and $72 million dollars in damages, respectively. J&J plans to appeal the cases and fight other cases they are implicated in.
Some studies demonstrate a link between talc use and ovarian cancer
As early as the 1970s, researchers showed a link between talc and cancer, finding talc particles embedded in tumors. More recent research found that women who used talc had nearly twice the risk of developing ovarian cancer than those that did not use talc. A study in 2013 pooled 8,525 cases and 9,859 controls to find a moderate increased risk for ovarian cancer with genital talcum powder use. The risk appears greater in some groups, including African American women. Additionally, the International Agency for Research on Cancer, part of the World Health Organization of the United Nations and an agency dedicated to documenting the occurrence of cancer worldwide and the carcinogenicity of various substances, found that genital use of talc was " possibly carcinogenic to humans."
While these are all observational studies and it is difficult to find a causal link between any substance and cancer, many scientists believe there may be some risk between genital talc use and developing ovarian cancer. The lawsuits filed allege that Johnson & Johnson failed to acknowledge this possibility and add warning labels to their products, even in light of their own talc supplier adding warning labels.
What are the symptoms of ovarian cancer?
In many cases, symptoms are not apparent in early stages of ovarian cancer. Though symptoms can vary for each person, some common symptoms include:
Changes in appetite, frequently a loss of appetite
More frequent urination
Indigestion, bloating, or nausea
Feeling tired
Changes in bowel movements
Feelings of pressure in the hips or lower back
Do I have a talcum powder lawsuit?
The Kishish Law Group is committed to seeking justice for you and your loved ones. We believe that you deserve fair compensation for your suffering and we will work tirelessly to achieve that goal. If you or a loved one developed ovarian cancer after use of talcum powder, we want to know.
Please contact us using our contact form or call us at 1 (888) 609-4664.
---
Further Breakdown of The Talcum Powder Lawsuit
---
Talcum Powder Lawsuit: The What
Talcum powder is a fine, white powder developed by extremely well refined and hydrated magnesium silicate. This product is used worldwide for its moisture absorbency and lubrication abilities. The primary ingredient in most widely distributed baby powder formulas, talcum powder, is also extremely prevalent in other powder-based personal hygiene products, primary those developed by Johnson and Johnson.
The most common products that used this talcum powder in question were:
Baby Magic Baby Powder
Johnson's Baby Powder (by Johnson and Johnson)
Valeant Pharmaceuticals' Shower to Shower
This product is used by the direct application on the skin or by dusting onto clothing or cloth before use to avoid direct skin contact.
Talcum Powder Lawsuit: The Why
Several attorneys have made claims via their clients and due diligence that manufacturers of talcum powder were aware for decades of the connection between their product's usage and ovarian cancer diagnoses. These same manufacturers made the conscious decision to neglect warning women of the risks.
While the precise mechanism of action from which talcum powder has been linked to cancer remains unknown, a theory involves inflammation of sensitive genital areas. Talc particles adhere to the uterus, and then travel upwards into the fallopian tubes, eventually settling in the ovaries.
Besides contact with mucous membranes directly, talcum powder has been known to suppress cancer-fighting antibodies, which increases the risk of cancer diagnosis after using talcum powder.
Additionally, prior to the 70's various talcum powder based products on the market contained asbestos. At the time, asbestos was only known as a naturally-occurring mineral. However, as time went on and more research was performed, it was discovered that asbestos was also an incredibly dangerous carcinogen that was actively and rampantly causing major health issues.
Talcum Powder Lawsuit: The Who
This lawsuit pertains to all women who have utilized talcum powder and had the powder enter the vagina, either when applied directly to the genital area, via cloth or condom. According to a recent study from the International Journal of Gynecological Cancer, it has been found that frequent use of talcum powder on the female genitalia area can increase ovarian cancer risk by 60%.
Talcum powder has also been heavily associated with severe respiratory issues, most notably in infants and young children. This is caused by the inhalation mentioned above of airborne irritants. Extended exposure to this kind of action on a frequent basis can easily cause asthmatic symptoms and even pneumonia in at-risk children.
Recently, a woman won over $110 million in a talcum powder lawsuit against Johnson and Johnson after insisting that their baby powder caused her diagnosis and growth of ovarian cancer.
---
DISCLAIMER: No attorney client relationship will exist between you and our firm until we enter into a signed Retainer/Services Agreement. Completion of this document is for informational purposes only and does not constitute a Retainer/Services Agreement. The information you obtain at this site is not, nor is it intended to be, legal advice. Contacting us does not create an attorney-client relationship. In some jurisdictions this website may be considered lawyer advertising. You should consult an attorney for advice regarding your individual situation. Click here for more information.
Speak with a Talcum Powder Lawyer
If you or a loved one were diagnosed with ovarian cancer or mesothelioma after the use of talcum products, you may be entitled to compensation.
Contact a lawyer today for a free and confidential legal consultation.
Related Posts
Consumer Product Lawsuits